What's up this week
Here's a bit of what I'm up to around here this week:
I have two books on my table this week that I am working my way through. One I will finish this week, the other will probably take me a while to slowly digest.
The first is this old copy of "Tree and Leaf" by J.R.R. Tolkien. I was not even aware of the existence of this little treasure until I found it at an old book sale a few months ago. The first part of the book is an essay on fairy-stories...and as a lover of fairy tales and fantasy realms like Narnia and Middle Earth, this essay is fascinating.
"If fairy-story as a kind is worth reading at all it is worthy to be written for and ready by adults. They will, of course, put more in and get more out than children can. Then, as a branch of a genuine art, children may hope to get fairy-stories fit for them to read and yet within their measure; as they may hope to get suitable introductions to poetry, history, and the sciences. Though it may be better for them to read some things, especially fairy-stories, that are beyond their measure rather than short of it. Their books like their clothes should allow for growth, and their books at any rate should encourage it."
The other book I am slowing working my way through is The Rest of God by Mark Buchanan. I cannot write enough good things about every book of his that I have read...and this one is no exception. I have never had a really great understanding of Sabbath and how to actually practice it consistently. This book is really helping me understand its significance and how to practically live it out. I love love love this book. It is deeply convicting and very much something my soul needs.
"Sabbath-keeping is a form of mending. It's mortar in the joints. Keep Sabbath, or else break too easily, and oversoon. Keep it, otherwise our dustiness consumes us, becomes us, and we end up able to hold exactly nothing.
In a culture where busyness is a fetish and stillness is laziness, rest is sloth. But without rest, we miss the rest of God: the rest he invites us to enter more fully so that we might know him more deeply. 'Be still, and know that I am God.' Some knowing is never pursued, only received. And for that, you need to be still."
So good.
I just love this little post and video by The Nester about how to style your sofa. It's like a light bulb went off when I watched it...now I wish I had more than one sofa to style, lol ;) But I will be having fun this week styling our one sofa. I already have a ridiculous number of throw blankets, so that part is easy...it's the pillows that I need to work on...so......
I think I'm going to tweak some that I already have and/or recover them, and I found a few easy tutorials that I'm going to use as inspiration:
I'm trying to get our grocery budget under control...I've slacked a bit lately on my couponing and meal planning, and so I spent some time yesterday getting myself back on track. This week I'm trying to use what we already have, and that means getting a little creative. I found a bag of egg noodles in the pantry, and needed an idea of what to do with them. (Usually I just make chicken noodle casserole, but I wanted to do something different...plus, we're all out of chicken at the moment, so there's that.) So it was Pinterest to the rescue! I love how I can just type in "egg noodle recipes" and I have hundreds of ideas at my fingertips. :)
It didn't take very long for me to find this recipe from Pioneer Woman...it looks yummy, and the only thing I had to pick up from the store was the cottage cheese. It sounds kinda like a lasagna of sorts...we'll see if the family likes it or not ;)
What's your favorite egg noodle recipe?
This post by Ruth Simons over at Gracelaced is so so good. She writes, "We may think we can win the world with relatability, but I pray we don't lose them on account of portraying our Savior as a milktoast Christ who we don't submit to as King...and who we've assumed is apathetic about holiness. May it not be said of us that we were so "real" that we missed the reality of who Christ really is." YES. THIS.
And this post by Emily Freeman that she wrote over a week ago is really good. She writes, "The artists who struggle the most are the ones who are obsessed with how their work is received. This becomes their full time job and one day they discover they're no longer making art because their profession as Opinion Manager takes up all their time."
I also love what she says about choosing a filter for content...I'm really thinking about what that means for me and my little corner of the world here. But even more than that, I want to remember that whatever it is I do, I should be doing it for the glory of God, not for the approval of man.
This breaks my heart. This whole refugee crisis still weighs so heavy on my heart. These precious children...these desperate families...they are so much more than just a news story, and we can't (shouldn't) just flip the page or change the channel and pretend it isn't happening...we can't just close our eyes to their pain and close our ears to their cries.
Just because it isn't happening here, doesn't mean that it isn't happening or that it doesn't matter. It doesn't mean their lives don't matter.
They matter.
They have to matter.
I don't have all the answers, but I do know this: Jesus loves these people. Jesus died for these people. And we are never more like Jesus than when we reach out and help those who are desperate and hurting and homeless and rejected. Even if (and maybe especially if) they are our assumed enemies.
I know we can't fix all the problems in the world...I can't put these families back together that have been torn apart this past week...I can't save these children who are dying, drowning in the waters, tossed from the rafts that carry their fragile hopes. But that doesn't mean I get a pass to look the other way and do nothing. We can all do something. And maybe we start with fervent prayers. And then maybe we help by linking arms with others who are helping...and maybe, just maybe, together we can be a beacon of hope, shining the light of God and the love of Jesus into this desperately dark situation.
(If you want to do something, but don't know what to do, a great place to start is at wewelcomerefugees.com)
This week I'm memorizing this verse from 2 Corinthians:
God gives us everything we need...His grace is sufficient in ALL things at ALL times. And His grace abounds to us so that we can turn around and abound "in every good work." He blesses so we can bless. In a month that centers around gratitude and thankfulness, this is something my soul needs to remember: I am blessed to bless. I like the way the NLT says it too: "And God will generously provide all you need. Then you will always have everything you need and plenty left over to share with others."
We always have plenty left over.
I gave away this free little 5x7 printable, along with a bunch of other freebies, in the November monthly email yesterday to all Little House Studio subscribers. Are you not a subscriber yet? No problem, just click here to subscribe. All I need is your email address and you'll get all the freebies every single month delivered right to your inbox! And if you sign up now, I'll go ahead and send you this month's pack of free printables! This month's set includes 2 printable calendars, 2 prints (the 5x7 memory verse and an 8x10 exclusive print), a lock screen image, and a "Give Thanks" banner for your home!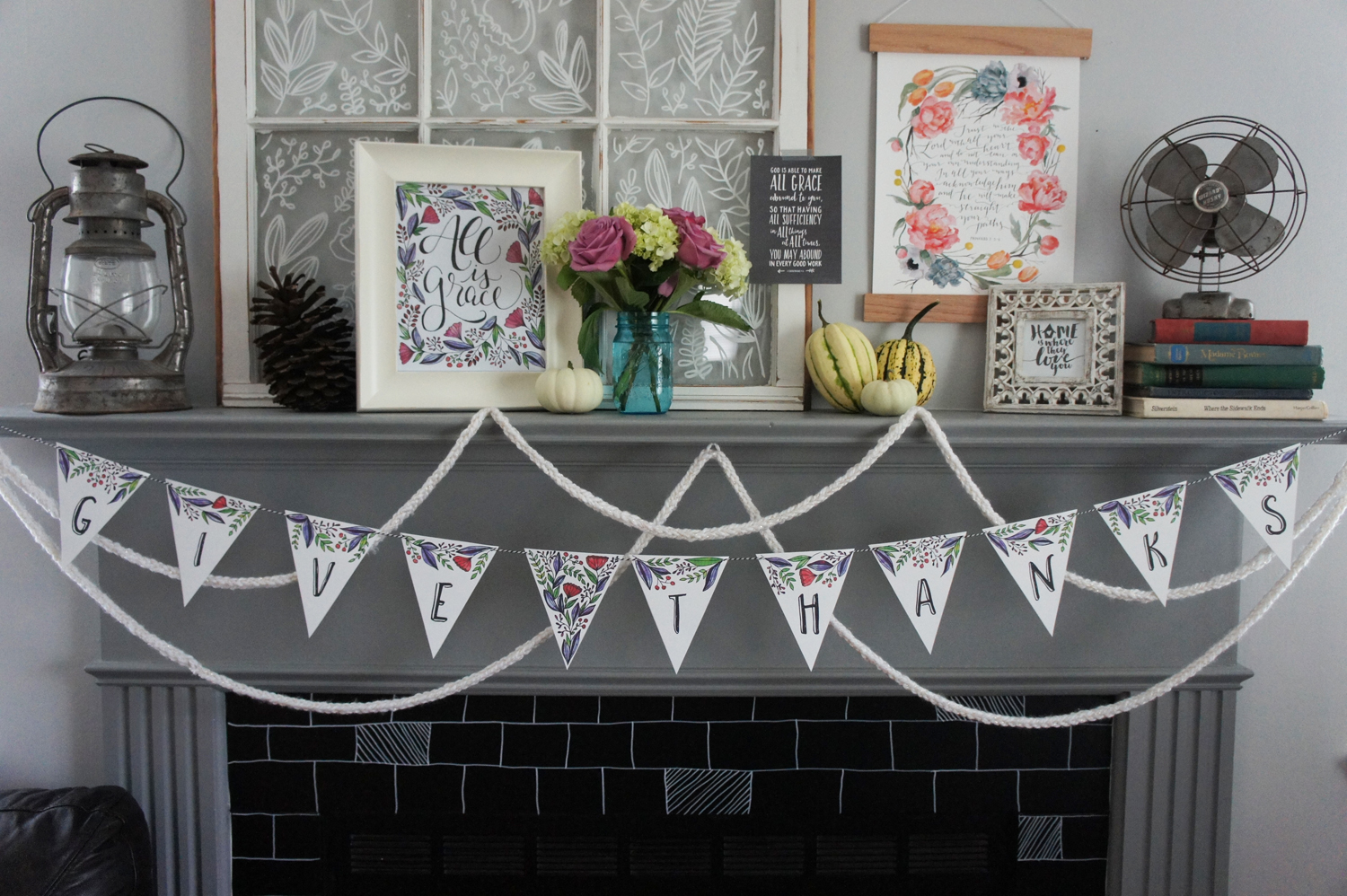 What is inspiring you this week? I'd love to hear from you!